Who pops into your head when someone mentions the Food Network? I'll bet Rachael Ray is in your top 3 that you think of! She's everywhere!
Most people might recognize Rachael Ray as a celebrity chef on the Food Network. She was born on August 25, 1968 in New York, and has been around restaurants all of her life, thanks to her mom who was a restaurant manager when Rachel was young. She is also an author as well as hosting the syndicated daily talk and lifestyle program Rachael Ray, and three Food Network series: 30 Minute Meals, Rachael Ray's Tasty Travels, and $40 a Day. 
One of the most interesting things that I found out about Rachael Ray is that in 2007, The Oxford American College Dictionary announced the addition of the term EVOO, short for extra-virgin olive oil, which Ray had helped to popularize, and credited her with coining the phrase. This phrase started on her television programs, she has used catchphrases such as "E-V-O-O" (extra-virgin olive oil) as well as a few others that haven't caught on quite as much such as  "stoup" (cross between a soup and stew), and "choup" (thicker than a soup but thinner than a chowder).
Why am I telling you all about Rachael Ray? Well, if you like her products then you should see what DealDash has for you! DealDash offers many of her high quality products such as Stoneware Oil and Vinegar Bottles, 3.5-quart stoneware covered rectangular casserole dish, and my personal favorite, the Hard Enamel 10pc Cookware set in 2-tone red.  I got this cookware set from DealDash right around the time that I was moving, and it was one of the very first things that I unpacked when I moved in.  This set includes: 1 Qt. Covered Saucepan, 2 Qt. Covered Saucepan, 6 Qt. Covered Stockpot, 3 Qt. Covered Saute, 8.5″ Skillet, and 10″ Skillet. All of these items have a nonstick interior. The nonstick interior allows food to slide off and makes cleanup quick and easy. All of them also have soft grippy handles. The rubberized dual-riveted handles are comfortable and oven safe to 350°F. The lids are made of tempered glass – Watch your foods cook without having to remove the lid to keep moisture locked in. Here is a picture of me with my Rachael Ray cookware set!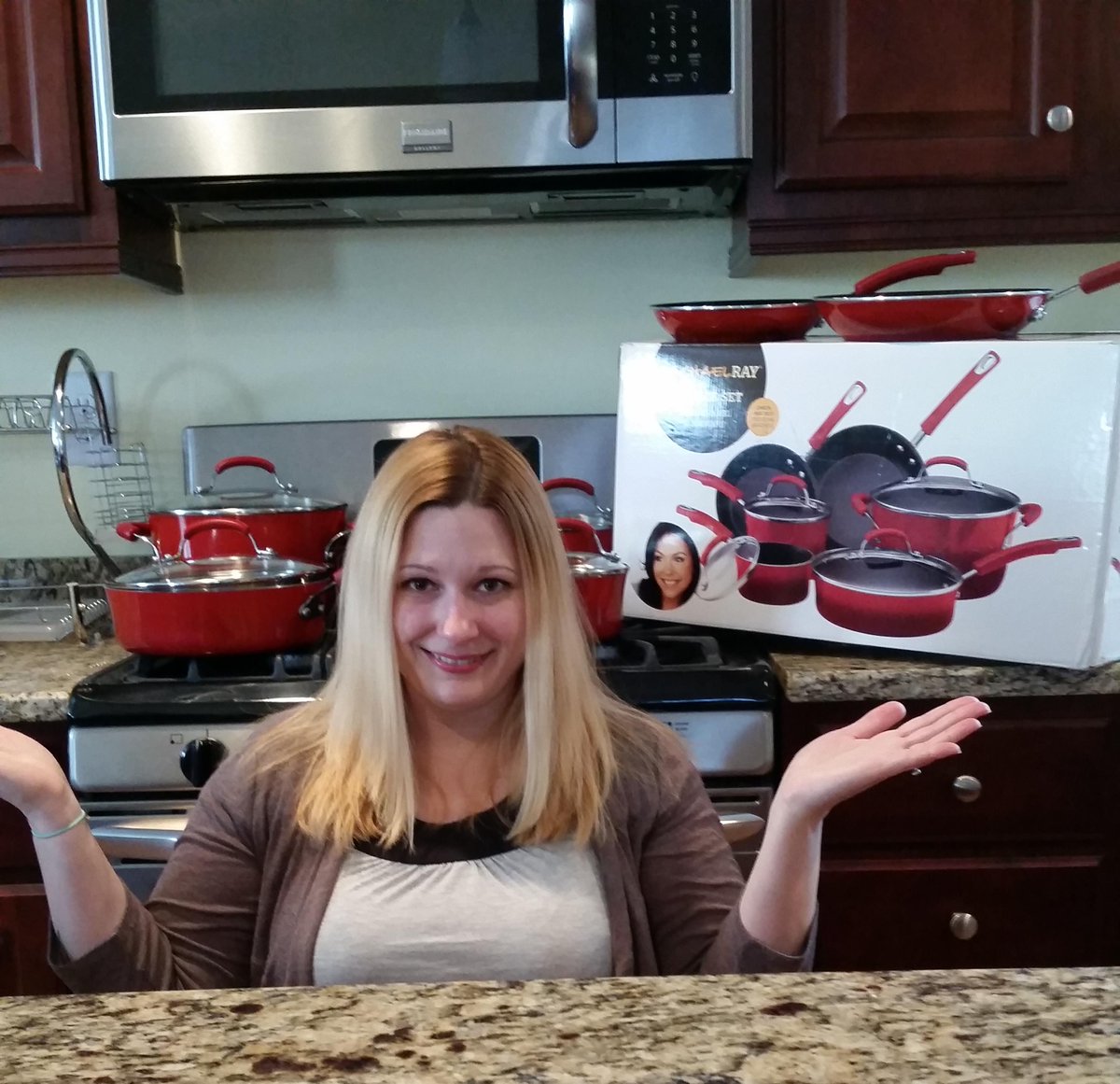 Head on over to DealDash and check out the upcoming Rachael Ray product auctions. One of my favorite things about the Rachael Ray products is that they come in so many different colors – purple, orange, and red to name a few. If you see one you are interested in, go ahead and hit the blue "Alert Me" button and DealDash will send you a quick email when one becomes available. Good luck and happy bidding everyone, set your Bid Buddies and go out and enjoy the beautiful weather!
http://www.youtube.com/watch?v=9×7-GYIxMjI