It's spring and time to start your garden! Let's see what items that DealDash has that can help.
Growing your own vegetables is fun, rewarding, and can save you money. All you really need to get started is some decent soil and a few plants, but to be a really successful vegetable gardener you are going to need some supplies. DealDash has you covered.
Starting with the absolute basics aside from soil and plants, you are going to need some tools. DealDash has an awesome tool kit that's just perfect for beginning your garden. Here is what the kit includes:
Leaf and flower trimmer
Water spray bottle
Branch and twig pruner
Spade
Trowel
Cultivator
Convenient carrying bag
If you're interested in checking out the beginner's tool kit you can just click on this link right here and it will take you to the description page. If you're interested in bidding on the kit just click the handy "Alert Me" button, and DealDash will send you an email when the auction is ready to begin. You may cancel the alert at any time by clicking the button again. You may set as many alerts as you would like, DealDash will take care of the rest!
I realize some people don't have a lot of extra space for a garden, for example a lot of people don't even have a yard due to living in an apartment or condo. Don't worry, DealDash can help with that as well!
If you have even a small amount of space on a patio, deck, or balcony then a small raised garden bed might be the best bet for you to try. DealDash has a small Raised Garden Bed Kit that can provide you with an easy way to grow and display herbs, flowers or vegetables in smaller spaces. It's made from recycled wood and plastic, the raised garden kit assembles easily with no tools. This wood and plastic garden bed measures 42″L x 42″W x 6″H and will not rot or decay since it's made with quality in mind. If you would like to check out the small raised garden bed then just click this link right here.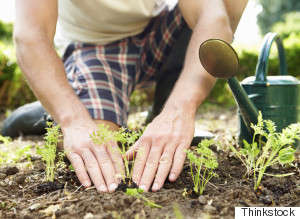 I hope that you are excited about getting your garden started! You can set your Bid Buddy and get one of these great products for a fraction of the cost. If you don't happen to win the auction, though, you can still be a winner by using BIN (Buy it Now). When you BIN you get the product that you wanted, all of your bids back, free shipping, and keep all of the bids that you won as being the highest bidder. Good luck and happy bidding everyone.