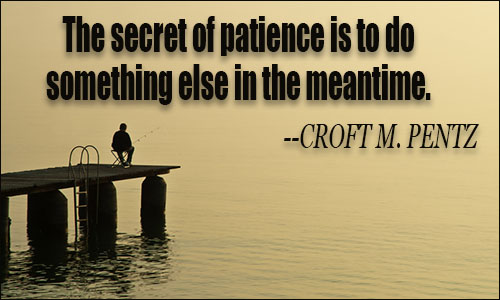 Patience is the key to many things in life. Let DealDash help you learn to be patient while having fun at the same time. 
Winning on DealDash, or in life for that matter isn't a matter of luck. Luck may play a small part in winning on DealDash, but bidders who win consistently do so because they've taken the time to learn how the site and the auctions really work. If you sign in and start bidding on anything and everything you're not going to be very successful. It takes a little bit of effort and a lot of time, but you can learn how to be successful on DealDash (and in life!) with a little bit of patience.
Playing and bidding on DealDash is more fun than just watching auctions on DealDash, but  watching and learning can have big payoffs for bidders. It's very important to learn how bidders behave in the auctions, and you will never know unless you use patience and watch a considerable amount of auctions before you make the commitment to start bidding. You want to create a winning strategy for yourself, and you can do that by watching how bidders react, who bids when, paying attention when there are multiples of the same item up for bid on the same day, and what kind of products attract the most and least bidders. 
Speaking of taking your time and being patient, there is nothing that can benefit you more than learning how the BidBuddy works. The BidBuddy is an amazing tool that DealDash offers to all bidders, free of charge, that you can load up with as many or as few bids as you like. Once the auction has begun the BidBuddy will alternate bidding with the other BidBuddies that are set until there are no more bids placed from BidBuddies or other bidders, and whoever has the last bid in before the clock runs out is the winner. If you have a little trouble being patient, then perhaps the BidBuddy is your solution. The BidBuddy will bid tirelessly until there is a winner, no patience required!
I hope that this article has helped you find a little patience. Why don't you go practice what we talked about by heading on over to DealDash? Good luck and happy bidding everyone!